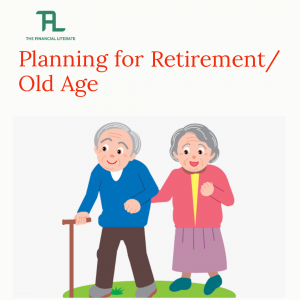 Have you ever wondered what will happen when you are retired and no longer actively working. What would you survive on? Gone are the days where you depend on government, relatives or children for survival.
You can take responsibility for your retirement by planning in your early age. My grandmother, of blessed memory, taught me this. At her old age, she conveniently lived off her rent from real estate and even passed them down to her children after her demise. You know it is not too early or late to start planning for your retirement.
So, why should you plan for retirement?
When you are old or retired, you no longer earn active income hence, there is the need to earn passive income. However you live off from what you've spent your active years to build.
Old age also comes with ailing medical conditions. Therefore, there should be plans to cater for that.
Stating the above, there is the need to plan for your retirement healthwise as well as financially
Number one way of planning for your retirement health wise is investing in your health now. Eating healthy, regular exercise and good proportion of balanced diets are key.
Two, how about health insurance to cater for unavoidable health problems?
Let's get to the finance part. To ensure that your income remains stable even at retirement, you have to establish structures now.
Do you want to cash out from shares? Do you want to cash out from real estate? Do you want to cash out from your business?
Whatever option you are going with, ensure the following
Such structure(s) can operate and survive without you- This is particularly important for business owners, if you will be cashing our from your business, ensure it has gotten to the stage where it can operate independently of you. Remember, retirement/old age means you are not longer actively working. Hence, you can put in place plans to turn your business into a Limited Liability Company with you becoming a major shareholder.
Diverification- Diversify your retirement plans. If you would be buying shares, don't buy in just one company. Likewise, don't rely on one rental property or one business. You can also get a mix of different options available.
Start early- To ensure that at retirement, these plans are very solid to cash out from, start early. Start planning for your retirement now. Start investing in that real estate, shares, business or whatever options you are considering. Now is never too early.
Did I miss out any other options or points to consider for retirement? I will be glad to know them in the comment section.
Planning for Your Retirement/Old Age