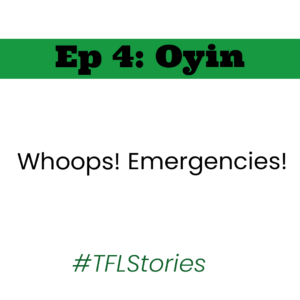 After snoozing her alarm clock for the fourth time, Oyin jumped up to the next alarm sound. She checked the time and knew she had to hurry that morning to avoid the constant recent nags from her supervisor. He plea that her route was under construction which caused serious traffic did not do her any good from Yemi, her supervisor. Yemi had insisted that she wake up earlier to beat the traffic rather than give excuses. After saying her prayers to God, she dashed to the bathroom and was impressed on how quick her dress-up time was that morning. Beaming with pride, she picked her bag to set out.
As she opened the fridge compartment of her fridge freezer to pick out her left-over from the previous day's dinner, she observed that her fridge was no different from a cupboard. "I just repaired this fridge! What has to be the meaning of this?" she exclaimed. "Just when I thought I will be early to work this morning, here comes another delay" . She kept brooding as she brought out some soups she had in the fridge and began re-heating them. She started dialling the repairer's number while the soups warmed. When he picked her call on the fifth ring, she did not hesitate to vent her frustration on him.
"Buy another fridge ke! Oga, that money no dey o. Oga come and check this fridge; I'm sure it can be repaired, I don't have any money now for a new fridge o. I will call you when I get back from work so you can come and check it".
She hurriedly picked her car key and locked her apartment, praying that the traffic will not be heavy that morning. Her frustration increased when she inserted her key to the ignition and her car refused to start. "Eh! They have finally gotten me! All these in one day". Picking her bag and locking her car, she opted to use a bike to get to work. She couldn't hold the tears as she walked out of her gate. "First it is the fridge, next my car. Why all these unplanned expenses? Where will I get the money from? I don't have any spare money on me. In fact, I have planned out how I will spend every kobo of my next salary. I did not plan for this all!"
*********************************************************************************
Have you ever been an "Oyin" at any point in your life?
I'm sure we've all had moments when unplanned expenses happen repeatedly in the space of few weeks.
Unplanned contingencies can be very annoying ??‍♀️.
?To keep our finances in order, we should have a cushion net for these unexpected expenses. This cushion net is called "an emergency fund".
?An emergency fund should consist at least six months (you can do more!) of your basic expenses.
Your emergency fund should only address emergencies!
? If you do not have an emergency fund, I advise that you commit at least 10-15% of your income over the next few months to build your emergency fund
?Another way of building an emergency fund is to apportion a percentage of windfalls e.g., cash gift, bonuses etc, to your fund.
?A person should have sufficient funds in an emergency fund before tying up money in long-term investments.
?The major features of an emergency fund are safety and liquidity. Hence, you should keep your funds in low-risk and liquid options e.g. high-interest savings account, fintech savings (e.g piggyvest), money market instruments.
You can catch up the previous episode of #TFLStories here.
To your financial independence and freedom!
#TFLStories: Episode 4- Oyin