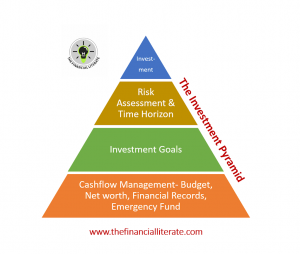 In recent times, I have been receiving a lot of inquiries, mostly from Nigerians, on investment options available. So, in subsequent posts, I'll be discussing in details various investment options available in Nigeria and how you can assess them. Stay glued! However, before anyone does any investment, one should consider what I call "The Investment Pyramid". These are important points that should be clearly stated out before an individual start investing.
Cashflow Management-
This forms the base of the investment pyramid. Without cashflow management, you can cannot utilize your income by budgeting and allocate a proportion for investment. Investment is not just meant for the rich and you don't have to wait till you have tons of money or surplus cash to invest. Even in your current financial state, you can start your journey to investment. Create a budget to live in, set aside a percentage for investment, ensure your emergency fund is built, prepare your financial records, review and project your net worth and dah-dah you are started on your investment journey.
Investment Goals-
The next stage is clearly stating out your investment goal. Your investment should be goal-based. Why are you investing? To generate passive income? To accumulate capital for long-term investment? Whatever the specific objective, state it our clearly. A clarification of your goal will aid you in choosing the right option, factoring in your risk appetite and time horizon of your goal.
Risk Assessment and Time horizon-
In as much as investment comes with risk, we have different degrees of risk depending on the risk appetite of the individual. Time horizon answers "How long can you leave your money invested? How long does it require to reach your goal?". You shouldn't invest long-term and be cash strapped short-term. After clearly identifying your risk type and time span, you can go on to checking out investment options. Your work is already simplified.
Investment-
Like I always say, investment is not only for the rich neither is investment a complex activity understood only by the educated finance gurus. In whatever financial sate you are in, you can be an investor. Some investment options accommodate capital as low as N5,000. All you need do is to identify the options that can accommodate your capital and create a plan to take you to your goal.
Join me next week Monday as I explain various investment options in Nigeria.
To your financial independence and freedom