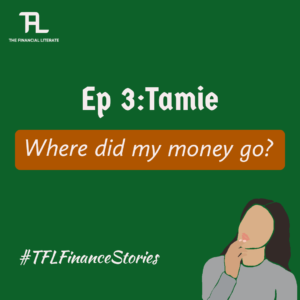 It was a hot sunny Saturday afternoon and all Tamie craved for was a cup of parfait and a slice of chocolate cake. She strolled down to the grocery store which was some blocks away. Walking through the aisles, she decided that she might as well have a cookie splurge that afternoon. Picking her favourites into her shopping basket alongside her initial cravings, she walked to the check-out point, got her goods packed, paid for them with her debit card and in less than a minute got the bank alert on her phone. Often, she usually neglected her bank debit alerts; however, she decided to open it today to have an idea of how much she had left.
"What!!!! Fifteen thousand naira! How come? Where did my money go? What did I spend money on? Like, how did it get to fifteen thousand naira? Jeez! I am already broke, and it is just middle of the month. I thought I had more than this in my account. Did someone use my card to pay for something? I need to carefully go through my bank alerts to be sure there's no error somewhere."
As she scrolled through the bank alerts, she concurred to the deductions from her account. "Whoops! I had been calculating things in my head; figures look better there. I better be making a budget of how I should spend my money. This is not funny at all''.
*****************************************************************************
I'm pretty sure most of us had this 'Tamie experience' before 😉
*****************************************************************************
Firstly, let me introduce this series.
#TFLStories is the narrative arm of The Financial Literate. It focuses on relational stories that depict our everyday finance worries and it also shares solutions to these worries. The first two episodes were published in Punch Newspaper last year. You can read it up here. We'd continue the series on our social media platforms.
***************************************************************************
Back to today's episode.
A budget is what saves you from "wondering where your money went to.
Here are few salient things to note about a budget:
▪︎ You do not create a budget in your head; you list them out in a worksheet.
▪︎ Your budget should include your income and intending expenditures. This helps you identify if your income can accommodate your expenses. (I find it surprising when people tell me that it was when they prepared a budget, they realized their expenses exceed their income)
▪︎If you have a budget deficit, you should work on creating other sources of income. While doing that, your expenditures should be listed out in order of priority. This ensures your income can sort out your priority expenses.
▪︎There is no one-size-fits-all approach to budgeting. Create a budget that suits your lifestyle and values. However, you can get some guidance from the 50-30-20 rule of budgeting (50% to your needs, 30% to your wants, 20% to savings/investment). Remember to also set allocations for your goals!
To your financial independence and freedom!
#TFLStories: Episode 3- Tamie