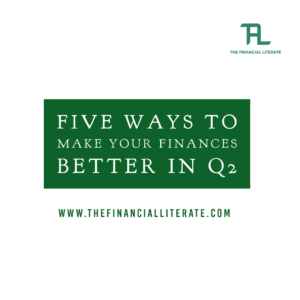 One quarter down in 2023; how's your finances faring? If you did meet your goals for the first quarter, big kudos to you! We celebrate you from here. If you didn't meet your goals, we also celebrate you because you're on a journey and every step matters.
We're over halfway gone in the first month of the second quarter, and if you don't have a plan yet to make your finances better than in the first quarter, I have some tips to help you with that.
1. Have a review of your finances in the first quarter- How well did you do in Quarter 1? Did you meet your saving and investment goals? How well do you stick to your budget? How well did you invest in yourself/your career? How well did you take a break from life's busyness and have some fun? A review of your performance in the first quarter would help you determine if you're on the right track or you need to revisit your goals and re-strategize.
2. Surround yourself with knowledge- The day you stop learning, they say, is the day you start dying.  Keep learning; the more you learn, the better the money decisions you make. Thankfully, there are a lot of online finance communities you can join to get free access to money knowledge and resources. Likewise, invest in yourself, sharpen your skills, and become more knowledgeable about your field of interest. This makes you more valuable and increases your earning potentials.
3. Prioritise your goals– One major mistake you should avoid is trying to achieve so many goals at the same time when your income cannot accommodate it. Take it one goal after the other in a prioritized order. This way, you wouldn't choke your income with so many commitments. You also don't feel overwhelmed, which gives you the encouragement to keep pushing towards your goals.
4. Get your action plan handy– You started the year with goals, right? Do you have an action plan for them? If you don't, it's time to revisit your goals and make action plans on how to bring them to reality. Make them specific, measurable, achievable, realistic, and timely.
5.Give yourself space– I know the pressure from social media is getting worse and people are looking out for get-quick-rich schemes. However, no one gets wealthy overnight. Don't let anybody put pressure on you. Take it one step at a time. Celebrate your wins, learn from your mistakes, and keep learning on your financial journey.
Finally, I hosted a webinar some weeks back on how to invest in the midst of inflation. In case you missed it, here's the link to watch the replay.
I hope these tips help you put your finances in a better position in Quarter 2.
To your financial independence and freedom!
5 Ways to Make Your Finances Better in Quarter 2