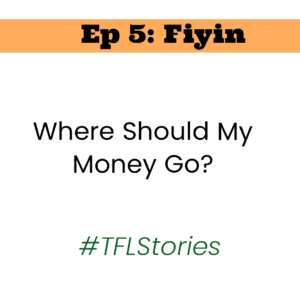 As Fiyin and Ola drove home together, Ola's eyes spotted an art design sticker on a 2020 Mercedes-Benz C-Class right in front of them as they got hooked in Lagos-after-work traffic. The sticker said- "Always Be A Goal Digger". Ola read these words loudly as he laughed, bringing Fiyin's attention to the sticker. Fiyin, laughing also, replied, "My goal for this year is to become a multi-millionaire and buy this exact type of car. If we no get this money, wetin we gain?". Ola laughingly completed the line of the song for him before sarcastically interrogating him. "So, aspiring Mr Multi-millionaire, how do you intend achieving this goal?". "I don't know o. I just know that my goal is to become a multi-millionaire and I don't know how I will get there; so, I am just here, dreaming and wishing", Fiyin jokingly said.
"Oga, you don't have a goal, you only have a wish, and a wish is not enough to bring about your intending results; you need more than that. To achieve your goals, you should construct them in a specific, measurable, achievable, relevant, and timely manner; this is called the SMART characteristics of a goal. Amused, Fiyin replied, "Mr Ola, the motivational speaker, I didn't know that you have re-directed your career path to motivational speaking". Ola laughed hard before replying, "Abeg, I am not a motivational speaker, my investment in the Personal Development Coaching Session I signed up for is beginning to pay off".
For the rest of their journey home, Fiyin was doing some mental work of how he could turn his wish to a goal. I need to be more serious about my goals", he thought.
*********************************************************************************
Financial goals, like any other goal, require a concrete plan to bring them to reality. Our goals give us a clear view of our destination; whatever your destination is- saving for a reason, paying off your debts, purchasing an item, increasing your income, or even becoming a millionaire at a certain age, you need a detailed plan to move you from where you are to where you want to be. Here are three tips to guide you in setting financial goals:
Be clear about your goals. Your goals should state your specific result; it should be measurable, in currency; it should be something you can achieve; it should be realistic and should have a time frame. An example is I want to save N150,000 every month (because my monthly income can accommodate it) for the next one year to buy a car (which will cost N1,800,000) at the end of the year. You should also think short term, medium term and long term when setting goals.
Include your goal in your budget. The next step is to create an allocation for your goal in your budget. This means that you may have to cut down on some of your expenses or increase your income. I would advise that you take your goals one after the other, so you do not become overwhelmed.
Monitor your progress. Periodically, track your progress. Are you still on track or do you need to edit your plans or even your goals? (Your goals should be flexible, remember!).
#TFLStories: Episode 5- Fiyin