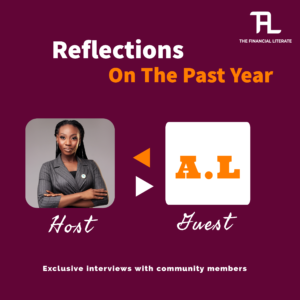 It is another Monday, and we have yet another interview with a community member. On today's episode, we feature a young man (A.L) who shares with us some interesting and enlightening money experiences.
TFL: What was your biggest money mistake in 2021 and how did you handle it?
A.L: My biggest money mistake in 2021 was making some too good to be true investments. In a bid to make multiple streams of income, I made some bad investment calls and I got burnt. When it's too good to be true, it usually is. With the unfavourable regulation of crypto currency trading in Nigeria and the dip experienced in the year 2021, So many crypto driven investments crashed, and I lost some money to that.
Well, money lost cannot be regained, but better investment decision needs to be made. Learn, research, and read reviews before committing money into an investment plan.
TFL: What new money lesson did you learn in 2021?
A.L: In 2021, I had a lot of emergencies, although not life threatening but several things got wrong that needed to be fixed in a short notice. Although through learning from The Financial Literate, I already cultivated the habit of having an emergency fund for such occurrence, however, with the difficulty 2021 brought, this wasn't enough to solve them. This made me spend money from other saving plans and you know how difficult it is to replace such money after spending. This made me realize that even in emergencies, one can still prioritize, look for alternatives and sometimes face consequences especially if it's not life threatening. If we feed all our emergencies' need for money, this can have detrimental effect on our finances. Hence, let your emergencies be REAL emergencies.
TFL: Did you have any major change in your finances in 2021 and how did you handle it?
A.L.: Well, I had a positive change towards the second half of the year, I got a raise in salary at work which was a little substantial. What I did differently this time was being conscious not to raise my standard of living to my new salary level. Through this, I was able to save more and recover some of the investment loses I suffered earlier in the year. This also gave me buffer money to improve my emergency fund which had plummeted earlier in the year.
An enlightening read, right?
I hope the lessons from today's episode guide you in your finance journey this year.
To your financial independence and freedom!
Exclusive Interviews with Community Members- Ep. 2