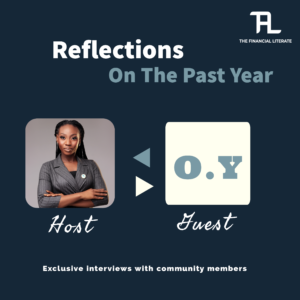 It's a New Year!!!
One step that helps us start the year on a right note is "reflections on the past year".
As a way of reflecting on our finances for the past year, we are having exclusive interviews with members of our community. We would be learning from them the new finance lessons they learnt in this past year, their money mistakes and how they handled them and other interesting money matters.
So, here's the first one. On today's episode we have a young lady (O.Y) sharing with us her new money lesson, mistake and how she was able to manage her finances in the face of relocation.
TFL: What was your biggest money mistake in 2021 and how did you handle it?
O.Y: The biggest money mistake I made was borrowing a friend money when I didn't have a constant income and then he didn't pay back (it still hurts!). As much as we try to be nice, we should also learn how to say no to people especially if we know they might not have the capacity to pay back and losing the fund will have a major impact on your finances. If you can't let it go, don't give the loan.
TFL: What new money lesson did you learn in 2021?
O.Y: I like to plan and budget how much savings I should have at any point in time without budgeting for specific expenses. As we all know, we can get carried away with spending especially in the Christmas season. I got a bonus at work but because I was more focused on the saving target, I had set earlier I didn't account for the extra income. I ended up spending everything ?? and though I hit my target, I can't account for how I spent the bonus. I learnt I should not only focus on my savings target but also pay attention to my spendings. If I had put more emphasis on my spending, the additional income would have increased my savings. After this experience, I got a great app (Mint) linked to my bank account that automatically tracks my spending based on my purchase history and since then I have had better control of my finances.
TFL: Did you have any major change in your finances in 2021 and how did you handle it?
O.Y: Earlier this year, I left my job, and I didn't immediately get another job. For that period, I had no constant income and I had expenses from relocating. I handled this period through my emergency funds. If I didn't have funds set aside in case of an unexpected situation, I would have had to spend from my savings which would have put me in a bad position financially, especially if I didn't get another job in time.
To your financial independence and freedom!
Exclusive Interview with Community Members- 1