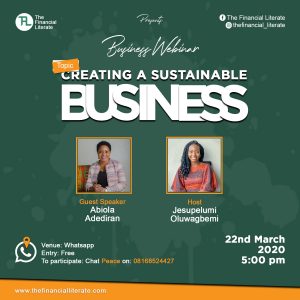 In celebration of Mother's Day, we had a business webinar titled Creating A Sustainable Business handled by an experienced business strategist, Abiola Adediran.
Below is a summary of the major points discussed in the session.
Firstly, how would you feel if your business can run seamlessly, like a well-oiled machine, with or without you? How would you feel if your business is not in a survival mode all the time?
Most entrepreneurs are not yet in the phase noted above. Some entrepreneurs experience frustrations ranging around employees not following up on expectations, not having control of their time because they are tied up in every part of the business, stunted growth in the business, running an unprofitable business, inconsistent quality of their products/services amongst others.
A sustainable business is one that can outlive you; that can succeed with or without you. It is one that can thrive in different locations that you do not have to be in.
To create a sustainable and growth-focused business, your business needs a Business Operating System. You need to build the right systems around your idea. Your Business Operating System is the core of your business/organization.
What are the components of a Business Operating System?
Psychology- This is the state of your mind; the compelling vision of your business.
Your business is a reflection of you. Your psychology is your vision, mission and core values. If your core vales are not defined, people who join you as time goes on will not be able to replicate these core values. Ask yourself, why am I in business? What is the purpose of my business? Reflect on this and write them out clearly. Also, clearly define and write out what success means to you in your business.
Process- Successful businesses have unique ways of doing things. Define the processes that are involved in carrying out your daily operations. Document your processes in a way that other people can understand and achieve the results you make. You need to replicate yourself in your employees and you can only do this by defining your processes.
People- Successful businesses surround themselves with great people who believe in their core values. You need to match the right person to the right role. Invest in the grooming and development of your employees. Document the job description of your employees so that they can understand their roles in your business. Also, clearly state out the code of conducts to your employees.
Culture- This is the DNA of your business. Build a good culture around your business.
Data- Successful business know how to harness trends, predict the future and stay ahead of the market. You should be able to gather data of what's going on in your industry and take proactive steps in your business.
What is the business continuity plan do you have in place?
Bonus Points
Finances- As a business owner, you should separate your finances from your business finance. You should set yourself on a salary rather than dipping your hand in your business' finances.
If you have excess cashflow, you can invest in liquid assets rather than letting your money sit in the bank. Examples of these assets are mutual funds, treasury bills etc.
Make a budget for your business expenses. Don't spend on what is not budgeted. Only incur expenses that will yield results for your business. Critic every expense.
Market– Identify your potential customers and their location. Are your customers online or offline? Create a compelling preposition to convince your customers to buy from you.
Have a clear marketing plan to attract your customers.
Finally, a sustainable business is one that can outlive you, you need to plan your succession, plan your exit strategy even if you are just starting today.
We believe in you!
To your financial independence and freedom.
Insights from our Business Webinar