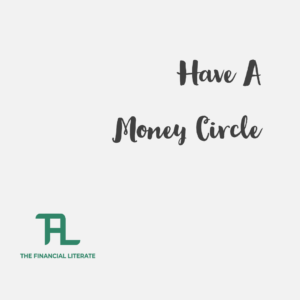 There was a recent outbursts of awe, astonishment, and motivation to the story of forty Nigerian women who through collaboration were each able to get landed properties with a deposit of a monthly minimal amount.
There is so much you can do with collaboration. With collaboration, not only would you get to your goals faster, but you will also get motivation and exposure regularly. Have you noticed that, at times, you get more serious with some of your goals when you are involved with other people than when you are doing it in your own?
Personally, I find it easier maintaining my finance discipline when I am involved with a group of people than when I am doing it on my own.
Do you have a money circle?
Do you have a group of friends where you discuss business ideas, investment opportunities and financial literacy skills?
If your friendship circle is just limited to trending gist, latest fashion and trendy items, there is a need to introduce money conversations in your circle.
• You find it difficult to save or invest? Set up a savings/investment accountability group within your friends (You can set savings/investment goals together, keep track of each other's progress, and analyse investment opportunities together)
• You find it difficult to read finance books? Set up a reading club among your friends.
• You find it difficult controlling your spending? Get an accountability partner!
Let your friendship circle help you improve your finances!
To your financial independence and freedom!