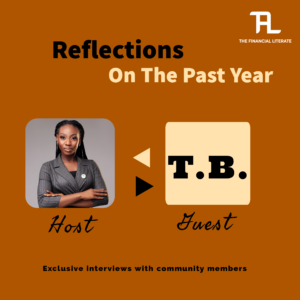 We have another episode of our ongoing series up today and our guest (T.B.) shares with some enlightening and interesting money experiences from 2021. Enjoy your read!
TFL: What was your biggest money mistake in 2021 and how did you handle it?
T.B.: My biggest money mistake was being unprepared for emergencies. In the beginning of the year, I had planned my finances properly only to be met by a health challenge that cost me a lot of money. It took several of these emergencies for me to finally include an emergency savings in my budget. That really helped me in dealing with unplanned spendings and black tax. So, yeah, my biggest mistake was not planning for uncontrollable events.
TFL: What new money lesson did you learn in 2021?
T.B.: I learned that no matter how much money you make, you'll still need more money. As the year progressed, I saw an increase in my wages. At some point I had thought that if I could only earn a little more money, I wouldn't have money troubles anymore. It wasn't true. As income increased, so did my expenditure. So, I learned that to maximize money at hand, earning more wasn't the ultimate solution. It takes proper planning and self discipline not to spend beyond your budget.
TFL: Did you have any major change in your finances in 2021 and how did you handle it?
Well, yes! Thanks to the financial lessons I learned from TFL, I started using a budget for my finances in 2021. It worked out amazingly! Even though many times, I couldn't follow it strictly due to several unexpected occurrences, it helped me handle and plan my money much better than I had ever done. It's a practice that I have kept, and I already have my monthly budget for 2022 planned out.
To your financial independence and freedom!
Exclusive Interviews with Community Members- Ep. 4