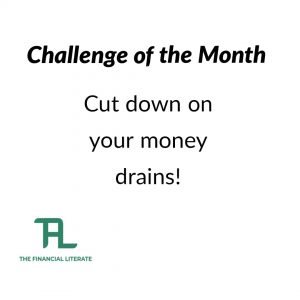 Hi people!!!
Welcome to another month. This is the last month of the first quarter of the year; tic toc tic toc, the year is moving fast. Now is the best time to take responsibilities for your finances if you haven't started.
Before I continue, I want to make something clear. I am not advocating money-centeredness in all I say, no, no; I just keep re-stating the importance of taking up responsibility of managing your finances. You can't leave your finances to lead itself into financial prosperity for you; you need to be intentional about it. You should set out your goals, get a plan, discipline yourself, cut down on your money drains and keep your focus.
Back to the story of the day, we started our monthly challenge in February to help us remain responsible for our finances. (Follow us on our Social Media Pages to stay abreast of our activities). Trust me, it worked for a number of people. So, here's this for the Month of March- Cut Down on Your Money Drains!
What is a Money Drain? It is something (an expense class or a bad habit) that keeps consuming a good proportion of your income and does not really provide a tangible return. A money drain can be excess eating out, excess consumption of mobile data, or that habit you know makes you spend so much yet you do not receive tangible returns for it.
So, here's the challenge. Identify that drain for your money and allocate a smaller apportionment (maybe half of what it used to be) to it this month. You may need to use some alternatives here. For example, if yours is eating out, maybe from hanging out with friends, why don't you try cooking at home or having your hangouts at one another's home.
Let's do this people- Challenge of the Month- Cut Down on Your Money Drains!
We believe in you!
To your financial independence and freedom
Cut Down on Your Money Drains!